Based on a unique premise, Assassins Creed combines historical fiction and action adventure to create an extravaganza. The game kept pushing its boundaries, taking players into enveloping and appealing scenarios.
The latest Assassins Creed took players further into the past than ever before, and while the game's franchise faced some ups and downs, but still it has managed to retain a great deal of consistency throughout its 12 game titles. Assassin's Creed has never shied away from new exploring new ideas.
The game series constantly kept on evolving along with the industry and always kept on providing something new that keeps the critics satisfied and audiences excited for more.
Trying to figure out which one is the best Assassin's Creed is never going to be easy. This series has continued to expand and evolve since its first release 15 years ago, and we can't even begin to imagine how long it would take to play all the games.
That's why you might want to pick and choose the best historical playground game of choice carefully, from Altair's first adventure in 2007's Assassin's Creed all the way to Assassin's Creed Valhalla.
Table of Content
Upcoming Assassins Creed games announcement
Assassin's Creed Mirage
---
Assassin's Creed Codename Hexe
---
Assassin's Creed Codename Red
---
So Keep reading to see where your favorite game title, is and how well the game holds up, in our listing of the best Assassin's Creed games.
Top 20 Best Assassin's Creed Games Ranked (according to gameplay, storyline)
---
20. Assassins Creed Freedom Cry
Assassin's Creed Freedom Cry was released on 18 February 2014. The game was available to play on PS3, Xbox 360, and PC and was re-released for PS4 and Xbox One.
The Assassins Creed Freedom Cry was released as Assassins Creed IV Black Flag DLC, but this game had bigger ambitions, and then it eventually become a standalone game. While its combat and sidequest make it all similar to Black Flag.
The story in this game was quite good, here former slave Adewale stands against the slavemasters of Haiti in the name of freedom, trying to prove that Assassin's mission can take on many important shapes.
Assassin's Creed Freedom Cry puts you in the thick slave trade and is persistent in how it depicts brutality. You cannot miss the human auctions or runaway slaves who might be killed with your help. Being a participant in those killing rather than an observer makes it impossible to ignore.
Perhaps most importantly, Assassins Creed Freedom Cry depicts how those slaves and the nation's freemen are active participants in their own liberation, working with Adewale. In that sense, Freedom does something that is entirely unique.
19. Assassins Creed: Altair's Chronicles (2008)`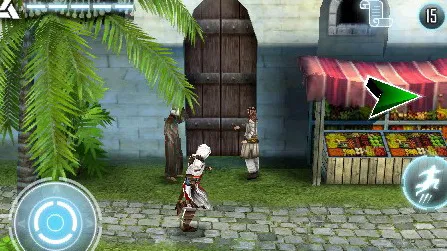 Assassins Creed: Altair's Chronicles was released in the year 2008, and the game was available on Android, IOS, and Nintendo DS.
Before Ezio's trilogy was shining in the eyes of the Assassin's Creed development team, there were Altair's Chronicles. This mobile version was the prequel to the original Assassins Creed. The game sees Altair (the main character) hunting for a mythical artifact (the Challice).
This game is totally a disaster from start to finish (the basic problems in this game) are-
Assassins Creed's combat is so simplified that it's no longer interesting.
Locations and missions are the same.
the story is completely dull.
the dialogues are constantly awful with an occasional strike into Vader's Noooooo'.
The good thing about this game
its visuals
environmental designs, which at least make it aesthetically pleasing
But these things are to make up for its many varied imperfections and with new mobile Assassins Creed games surpassing its visual quality if you want you can skip this game.
18. Assassins Creed Chronicles: Russia
Assassins Creed Chronicles: Russia was released on 9th February 2016, and the game is available for playing on PS4, Xbox One, and PC.
The final side-scrolling stealthy spin-off from Ubi and Climax Studios, Chronicles Russia is gorgeously drawn in the color of 20th-century propaganda.
The sneaky quest of Nikolai Orelov in Russia in the year 1918, this game is actually the most modern Assassin's Creed adventure till now.
Nikolai Orelov is, still an assassin, and still has hidden blades, but just for a change, he is armed with a rifle to take out enemies from a distance and a winch for yanking the doors.
There's plenty of satisfying gameplay but still, Assassin's Creed Chronicles: Russia manages to be the worst of the arty trilogy due to these reasons –
irritating difficulty spikes, if you try to do anything other than that, it will spike your enemies silently.
adding in some frustrating timed levels
new characters become bogged down
Unlike Chronicles China or India, both are fun stealth side scrollers in their own right.
17. Assassins Creed: Bloodlines
Assassins Creed: Bloodlines was released on November 17, 2009, alongside Assassins Creed 2 and Assassins Creed Discovery. The game is available to play on, PSP, PS3, PS4, Xbox 360, Xbox One, Switch, and PC.
Assassin's Creed: Bloodlines on PSP continues Altair's story after the events of the original game. As opposed to the previous mobile version entries in the series, Bloodlines tries to approximate the 3D look and free-for-all gameplay visuals, that make this game a true Assassin's Creed game.
But when it comes to gameplay, Bloodlines have problems like –
small environment funnels you into battles
fight often feels clumsy
Bloodline does have an involved story that's not as awful as Altair's chronicles, it often falls flat. It isn't strong enough to make up for uninspired combat.
One thing that is good in this game is Maria – Altair's sharp tongue associate who fans might remember from certain dream sequence – her interaction with Altair give the game's story some life and depth.
16. Assassins Creed Chronicles: India
Assassins Creed Chronicles: India was released on 12 January 2016. The game was available to play on PC, PS4, and Xbox One.
Assassin's Creed Chronicles: India is the franchise's first raid into what was, at that time, the Jewel in the Crown of the British Empire.
Unfortunately, you'll only see a limited amount of it, because of the main character named Arbaaz, 2.5D path doesn't leave the room to explore much. Beautiful backdrops and a satisfying movement, but that only does so much to fix the game's other issues.
Sloppily designed missions
The stealth option is basically mandatory
Assassins Creed Chronicles: India punishes you for even making the game exciting by combat, handing out automatic low scores, or outright failure for your efforts. In a game where points are really important for upgrades, that just feels irritating.
The game has some other problems –
Forcing Arbaaz (the main character) to run slower, for no reason
Awkward pacing makes the game drag horribly.
15. Assassins Creed II: Discovery
Assassins Creed II: Discovery was released on 17, November 2009. The game was available to play on IOS, and Nintendo DS.
If you have only played Assassin's Creed mobile games, you might have an idea that the series trademark is side-scrolling yours through the corridors of unobservant guards. Assassins Creed II: Discovery won't do much to dispel this concept, you play as Ezio, conducting assassination missions for a series of clients.
They just act as a vehicle to push you into a 2D platformer that takes on a few infinite runner qualities, if you like charging in full steam and destroying every unobservant guard you meet.
This game doesn't have that depth like most Assassins Creed games, but it does achieve what it set out to do. The game does create a smoother, more interesting platform experience. Discovery does set the standard for 2D games back in 2009.
It's since been bypassed by superior Chronicles: China, but might still be worth a play, but Ubisoft has removed all evidence of the Assassins Creed mobile version.
14. Assasins Creed Chronicles: China
Assassin's Creed Chronicles: China was released on 25 April 2015. The game was available to play on PS4, Xbox, and PC.
This game continued the fine tradition of side-scrollers, but they improved the gameplay by borrowing some tricks from the best stealth games. Assassins Creed Chronicles: China made some major improvements like –
Stealth mechanics are joined seamlessly
True free-running segments create intense and welcome action
Add in a beautiful art style
Chronicles: China is the best among Assassins Creed 2D game titles.
The major problems with this game are-
Its short runtime
The basic setup doesn't allow players to explore truly great Assassins Creed
The lack of variety between environments makes the world quickly repetitive after a certain point in time.
Protagonist Shao Jun's revenge plot is very light in terms of storytelling.
But still, it's a fun and challenging game that advances the quality of the series through small offerings and redeems the format.
13. Assassins Creed Liberation
Assassin's Creed Liberation was released on 30 October 2012. The game was released on Playstation Vita and was available to play on PS3, PS4, Xbox 360, Xbox One, Switch, and PC.
The game might not be available now on the console but is still available on Playstation Vita. Aveline's combat style is still fluid and satisfying just like some of the best Assassins Creed games.
The game presents the story as the Templar's altered version of events, this is one of the most clever mythology twists offered till now by the developers. But there is no escaping how cramping the game feels, both in physical size as well as the storyline.
One woman named Aveline is a fascinating character with a lot of enthusiasm. The major issues with this game are –
Aveline's motivations are never made clear nor are those of her enemies.
Only one city, some outlying swamp, and a temple to investigate
the game don't allow you to explore the world the way an Assassins Creed game should.
Assassins Creed Liberation fits squarely in the middle on the quality scale. In short, the game is neither great nor terrible, and serviceable for fans in need of an Assassin's Creed fix.
12. Assassins Creed: Unity
Assassin's Creed: Unity was released on 11 November 2014. The game was available to play on PS4, Xbox One, and PC.
This game had major problems. It was a very ambitious project that promised certain things like –
rebuilding Assassins Creed's standard battle mechanics
creating a bigger world
building a completely new multiplayer from scratch
When the game launched it all came out to be a glitchy mess, but within one week after the launch, all the glitches were ironed out. The French Revolution Assassin, Arno's adventure is a beautiful and ambitious journey in Paris.
In addition to being stunning and boosting the standard of every Assassin's Creed game to come –
Unity's assassination system is revolutionary, opening up a new opportunity for the creative killing of weak links in the environment's security
Cerebral challenges in the form of murder mysteries and riddle solving.
These things make Assassins Creed: Unity more intricate and interesting than previous games from the series. This game brings to the series the ability to kill a man through the wall of a confessional and some serious brain teasers.
11. Assassins Creed (2007)
Assassin's Creed: Revelations was released in November 2007. The game was available to play on PS3, Xbox 360, and PC.
The game that started the Assassins Creed series doesn't look as exciting as it looked eight years back, but it isn't going to be falling apart yet either. Assassins Creed 2007 you can say a Tech Demo for what the franchise was going to become.
The original Assassin's Creed gives you one thing to do ie. assassinate and tells you to do it ten times over, with only the most repetitive sidequests to break things up.
The things this game has achieved at the time of its release have also faded away, as graphics have gone better and better and Ubisoft sharpens the control of Assassins Creed games so you don't run up the walls quite so much.
But what is the original Assassin's Creed has going for it is close to the series' heart –
you can learn everything about your target
you can plot the assassination
execute it accordingly
high-profile missions offer a variety
each target behaves in a unique way that favors a different kind of approach.
Assassin's Creed (2007) is comprised of some basic elements and has been getting better and better since then, but the game isn't irrelevant yet.
10. Assassins Creed Rogue
Assassin's Creed Rogue was released on 17, November 2014. The game was available to play on PS3, PS4, Xbox 360, Xbox One, and PC.
If any of you plays Assassin's Creed Rogue for the first time, you might think that Black Flag's DLC. The game's story is of an assassin named Shay Caramoc, Togue focuses on the period of time between Black Flag and Assassins Creed III, and lifts heavily from Black Flag's trove of assets –
Ship combat is virtually similar
Shay fights the same way Edward does
It's just much colder and doesn't go swimming in North Atlantic
Just Black Flag's style of combat and exploration on the way out with the release of Assassin's Creed Unity, some gaming fans hailed Rogue as the retreat, and it does a great job of replicating Black Flag's best parts.
Rogue did bring out new environments like the North Pole, and minor additions to ship combat, giving those mechanics a little extra juice without changing them too much.
This is also the fact that it effortlessly sees off some of the North American arc's most beloved characters. The game developers have thrown in the nicely reversed element, where you're constantly at risk of being assassinated by Assassins.
9. Assassins Creed Syndicate
Assassin's Creed Syndicate was released on 23 October 2015. The game was available to play on PS4 and Xbox One and PC.
Victorian London has been done to dapperly-dressed death. When Assassins creed Syndicate showed up in late 2015, it took to exploring the city with such uncontrolled amusement and sincerity that it was really hard not to love.
Syndicate makes sure its many diversions are worth getting distracted by. When you're zooming across an unprepared zipline from your hidden blade, or solving paranormal mysteries with Charles Dickens.
Charming twin protagonists, Evie and Jacob Frye both of whom you can play at your time. These feel like real people you'd like to have fun with. The game allows you to play happily with everything and even rush through the city in carriages, causing absolute chaos, Assassins Creed Syndicate brings out the best part of the entire Assassins Creed in one game, showing what the series is capable of when it rises.
8. Assassins Creed Revelations
Assassins Creed Revelations was released on 15 November 2011. The game was available to play on PS3, PS4, Xbox 360, Xbox One, and PC.
Ezio Auditore is one of the best protagonists, thanks to the best storytelling at the front of Assassin's Creed Revelations. This game had one of the most thoughtful and mature tales the series has released till now, Revelations set the standard for every Assassin's Creed story since then.
The brilliance is not felt in every part of the game. The most annoying parts of this game are –
Constantinople is fairly dull and forgettable
Tower defense added to the territory claiming is the worst.
These things only show the strength of Assassin's Creed Revelations narrative, which focuses on loss and sacrifice in a painfully honest way that satisfies your heart as much as it breaks it.
Both Ezio Auditore and Altair get the ending they deserve because Assassin's Creed Revelations know the strength of telling a different story.
7. Assassins Creed Brotherhood
Assassins Creed Brotherhood was released on 16 November 2010. The game was available to play on PS3, PS4, Xbox 360, Xbox One, and PC.
Assassins Creed Brotherhood sounds like a disaster waiting to happen. A direct, sequel to Assassin's Creed 2 that restricts your movement only to one city and minimize the story: the game had shameless cash-in written all over it.
But those who were prepared for another disappointment were shocked to see a pleasant surprise. Brotherhood is a good game, it's so good that it changed the face of the series. The best parts about the game were –
Capturing territory
Addictive multiplayer
control over legions of Assassins
Ezio's second adventure in Rome might not have the multiple locations of its predecessor – except for a heartbreaking section in Monteriggioni we still can't get over but this city is of constant discovery –
Atmospheric lairs beneath the streets
Da Vinci offers up even more Renaissance Bond gadgets
Parachute anyone
Poison dart launcher
Driving a 15th-century tanker
Assassins Creed Brotherhood even hides more emotional slices of the plot for curious players to find, and Rome itself is so diverse that you will also feel wanting much more.
6. Assassins Creed III
Assassin's Creed III was released on 30 October 2012. The game was available to play on PS3, PS4, Xbox 360, Xbox One, and PC.
Assassins Creed III in many ways was a test drive. It was the first game of the series without Ezio in five years, the first game in the series set in a populated wilderness, and the first to feature the series' beloved ship combat.
It did a lot of things right, creating a Frontier you can explore for hours. The main character Connor is often too impersonal and superior to be encouraging, and the number of times he steps in to save inexpert Founding Fathers is too hard to take seriously.
The game has some sections that emphasize stealth, but the actual stealth control in this is very poor, so some of these are far more annoying than fun.
Assassins Creed III has a lot of great ideas –
Crafting ships
working ecosystem
fascinating time period
5. Assassins Creed IV: Black Flag
Assassins Creed IV: Black Flag was released on 29th October 2013. The game was available to play on PS3, Xbox 360, PS4, Xbox One, and PC.
When Assassin's Creed II was released it raised to success on an updraft of enthusiasm for an expanding series, Assassin's Creed Black Flag arrived just after the disappointing Assassin's Creed III, when confidence in this series was absolutely lost.
It has faced a hostile climate with little faith in the game related to pirates, and could possibly be successful. The game did just like pirate fashion, it blew the doors right off the place, taking every piece of the previous Assassin's Creed game and turning it into gold.
The main character of Assassin's Creed IV: Black Flag Edward Kenway, is an irresistible rogue and absolutely cancels out his grandson Connor.
There's almost nothing about this Assassin's Creed game that didn't either invent or radically improve, against all fan's expectations. Black Flag offered up the biggest and the richest game the franchise has yet seen
an incredible variety of addictive missions
ship combat
effortlessly beautiful soundtrack
it goes beyond the video games basics
honest treatment of an often misrepresented historical period
artfully tells the tale of time
This game is masterfully crafted and jaw-droppingly beautiful as whales' tail rise and fall on the ocean wave.
4. Assassins Creed II
Assassins Creed II was released on 17 November 2009. The game was available to play on PS3, Xbox 360, and PC, later it was re-released for PS4 and Xbox One.
You guys have already seen the numbers, you know what this means.
Assassin's Creed II, the previous gleaming in the Brotherhood's hooded crown has been finally surpassed.
But you guys might be thinking why has the 2009 classic remained the pinnacle of the franchise till now? The answer is simple. Assassin's Creed II took the mechanics of its drab processor and breathed some life into it.
From the birth of Ezio – yes players do have to use face pad buttons to control their arms and legs – but this game delivers the heart and soul, and a world that is so gloriously expansive you will feel like a kid in a murderous sweetshop.
Florence, Rome, Venice, the glorious Renaissance becomes your playground, and with its gradually unfolding narrative, Assassin's Creed II keeps handing over fresh toys –
two hidden blades
undiscovered tombs hiding deep below Italian cities
Jesper Kyd soundtrack
The endless charm of Ezio
seas of extra missions that enrich the world
relentless pursuit of a perfect Monteriggioni
Everything keeps delivering long after you've finished the main story. The modern-day elements are truly introduced to the 21st-century Assassin order. In shorts, the game was pretty perfect.
3. Assassins Creed Origins
Assassin's Creed Origins was released on 27 October 2017. The game was available to play on PS4, Xbox One, and PC.
Assassin's Creed Origins' journey through Ancient Egypt doesn't just deliver, an origins story for the Brotherhood, but delivered a beautiful world so rich and expansive that every step in any direction let to a new discovery or just a lion that really wants to eat your head.
Bayek of Siwa, our new proto Assassin, and his equally murderous wife Aya is a new kind of hero for the franchise, entirely oddly relatable despite their slaughter quest for revenge across Egypt.
Egypt, the country is the true hero of the game and you'll be climbing up the tallest towers not just for improving your Eagle Senu's perception – yes you heard it right you'll be getting the true eagle vision, but just to take in the sights of the glorious world. Honestly speaking the photo mode had never felt so welcome.
Origins aren't just a pretty face though, the company has hit the reset button. The combat system is being totally reinvigorated with light and heavy attacks on your right shoulder buttons, dodge is key, and you're going to have to fight fiercely to survive.
A new RPG system means that you've got an endless choice of how to play. Assassin's Creed Origins take away all the irritants of previous Creed games and make it all about you, and how you want to play –
kill your enemies the way you want.
ride where you want to
climb every wall
find every loot chest
There are no restraints on players and tailing missions have been well and fully discarded. This is a new Creed, a perfect evolution of everything that has come before and it also has a new modern-day element.
2. Assassin's Creed Valhalla
Assassin's Creed Valhalla was released on 10 November 2020. The game is available to play on PS4, PS5, Xbox One, and Xbox Series X.
Assassin's Creed Valhalla is the one that is happily for everyone, with a renewed focus on the stealthier side of the Brotherhood via an actual Hidden One's hut in your settlement of Ravensthorpe, it brings back the heart of the series.
But fantastically, Eivor's adventure does this without taking away everything that we love about the new Assassins Creed Games.
The most vital across this sprawling beautiful world is the game's story, everything you guys do here feels like it genuinely matters
Whether that's experiencing glorious mini-world events
selecting an Ealdormen for a county
crashing longship onto a beach
and blowing your horn before pillaging to your heart's content.
This game is a true saga too, full of characters who'll sneak into your hearts whether you want them or not, making every region and adventure a genuine risk.
Stopping to take in the scenery is an ideal way to take great screenshots and appreciate the incredible world-building but also compare for the next potential emotional narrative repeatedly striking.
Then there are some mythical realms, different countries, satisfying new combat systems, and an expansive skill tree. Finding your feet in England is Eivors true rise of glory and there's an almost overwhelming thing to do –
you want to go fishing
watch the scenery from the back of a wolf
hunt down Thor's armor
choose you weapons
pick targets of your own choice and hunt them down.
There in lies the joy of Assassins Creed Valhalla. That makes this game the 2nd best game on our list.
1. Assassin's Creed Odyssey
Assassin's Creed Odyssey was released on 1st October 2018. The game was available to play on PS4, Xbox One, and PC.
Assassin's Creed Odyssey takes back players to way before the Order was a thing, and tells a theory through the medium of two new protagonists named Kassandra and Alexios.
You actually get to choose who you want to play right from the start of the game, and then the rest of the game goes according to the choices you made. This game is really huge.
But not that huge in a way that when you start playing feels like it's too huge, or too little, to get involved with. Odyssey is a world that is filled with side quests and distractions everywhere, with each one a big deal.
Not a boring fetch quest. It just hours of glorious cutscenes, incredibly memorable characters, and a whole lot of romance.